5 Benefits of Porcelain Veneers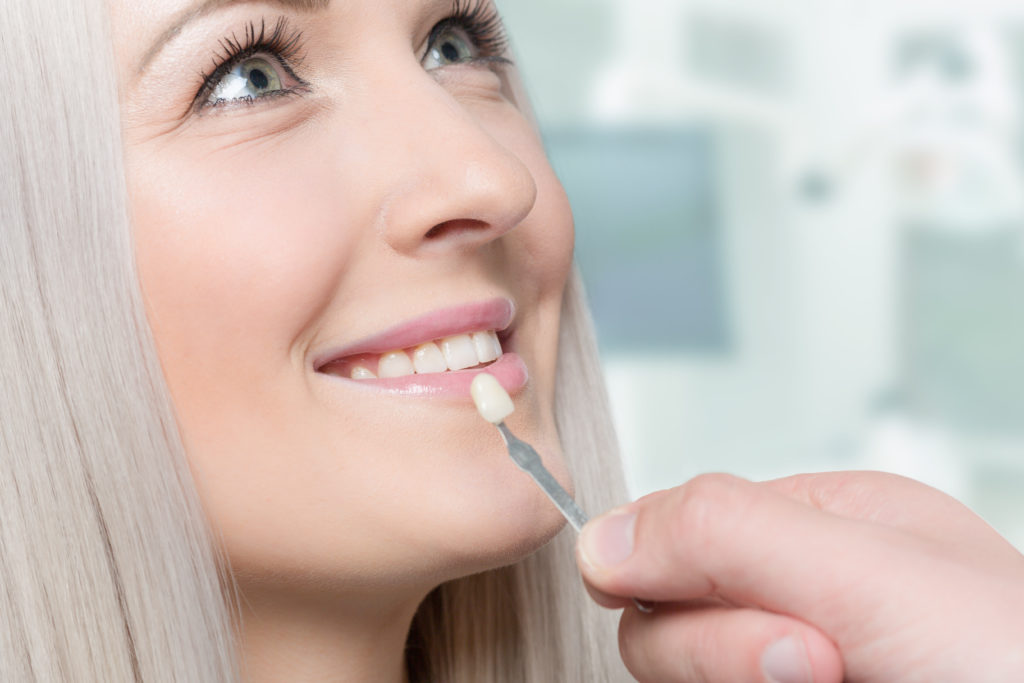 Do you cover your mouth when you laugh? Do you smile with your lips closed? Patients who are self-conscious about the aesthetics of their teeth can improve their appearance with porcelain veneers at Glenora Dental. Those who choose this cosmetic treatment option can dramatically improve their smile in just two office visits. Today, our team will discuss five of the most common benefits of porcelain veneers so you can be well-informed about this procedure.
Versatile uses
Porcelain veneers can be used to conceal a wide range of cosmetic flaws. For example, chipped or cracked teeth can be camouflaged, bringing symmetry and balance to a smile. Veneers can also be used to mask intrinsic staining or discoloration, delivering a brighter, whiter appearance. Patients who have gaps between the teeth can close down the spaces with porcelain veneers. Even mild cases of misalignment can be addressed with these custom restorations.
Natural-looking results
Each and every veneer is custom-crafted to fit the unique anatomy of the patient. Therefore, these restorations can deliver dramatic results that still look and feel like your natural teeth. In addition, the dental materials used to fabricate these restorations are incredibly lifelike, as porcelain reflects light similarly to the natural enamel.
Simple care and maintenance
Fortunately, porcelain veneers do not require any specialized care or maintenance. However, routine dental hygiene is crucial for long-lasting results and oral health. Patients should attend all regular dental cleanings and examinations. During these visits, Dr. VandenBrink can monitor your veneers and make sure they are working properly. In addition, your hygienist can gently remove plaque, tartar, and bacteria, keeping your restorations clean and healthy.
At-home hygiene is just as important as professional dental care. Therefore, patients should develop healthy habits. This includes brushing two times a day with a soft-bristled toothbrush and flossing at least once a day. We also recommend using an antibacterial mouthwash twice daily. As always, be sure that any oral care products you purchase have the CDA Seal.
Stain resistant and durable
Porcelain veneers are fabricated from strong, durable materials, and can be expected to last at least 10 to 15 years with proper maintenance and care. As an added bonus, dental porcelain is more stain resistant than natural teeth. Therefore, patients can enjoy a brighter, whiter smile for longer. Keep in mind, however, that the excessive consumption of dark-coloured foods and beverages can stain your veneers over time. That is why dental visits and at-home care are so important.
Minimally invasive
Alternative restorations, such as dental crowns, require significant removal of natural tooth structure. However, because veneers are designed for the front surfaces of the teeth, far less preparation is necessary. In most cases, approximately half a millimetre of enamel will be removed prior to the placement of your veneers, making this process less invasive than alternative methods. In fact, in many cases, local anesthesia is not even necessary during the procedure. It is important to note, however, that veneers are not reversible. Therefore, they will need to be replaced eventually.
Learn more about the benefits of porcelain veneers
If cracks, chips, gaps, or discoloration is detracting from the beauty of your smile, consider what porcelain veneers can do for you. To learn more, schedule a consultation at our Edmonton, AB dental practice. Contact us online anytime or give us a call at 780-452-5700.