The experienced and friendly team at Glenora Family Dental are here
to ensure that every step of your visit is as comfortable as possible.
Dr. John VandenBrink, DDS
A passionate Edmonton Dentist with over 25 Years of Experience
"I love dentistry for its many challenges, and how it combines a lot of my favorite hobbies including the opportunity to be artistic. What I most enjoy is getting my patients through their dental procedures with a smile – it's very rewarding."
As a native of Edmonton, AB, Dr. VandenBrink currently resides in Sherwood Park with his wife and three beautiful children. With a degree in Dentistry and Chemical Engineering from the University of Alberta, Dr. VandenBrink has been practicing dentistry since 1992.
Encompassing expert clinical skills, admirable attention to detail, and what his patients can only refer to as a "caring demeanor, and warm and playful personality", Dr. VandenBrink is devoted to changing the stigma about visiting the dentist by making dental "fun".
Dr. VandenBrink offers patients a wide array of dental services including preventive care, dentistry for children, emergency dental care, cosmetic dentistry and restorative procedures such as teeth whitening, ceramic crowns, bridges, and veneers.
On his free time you can find Dr. VandenBrink barbequing, cooking and cycling with his family, golfing, spending time at the gym, reading, and model-making. His bucket list items include visiting Asia and seeing "Big Rock" in concert.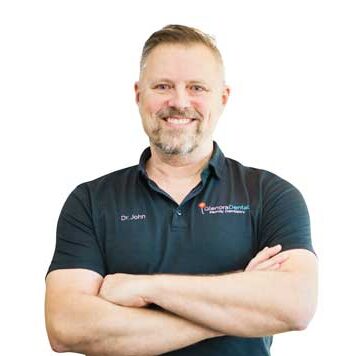 "Dentistry is a specialty in itself.  The feeling that my work has made someone's life better enlightens my day!"
Dr. Nirali Patel earned her Bachelor in Dental Surgery (BDS) degree from the Government College & Hospital Ahmedabad in Gujarat, India.  She practiced at All Smile Dental Clinic in Gujarat for 2 years before relocating to Canada in 2017. Dr. Patel successfully completed her dental equivalency licensing process in Mississauga, Ontario.
Dr. Patel practiced dentistry in Sudbury, Ontario.  Now, recently married, Dr. Patel calls Edmonton her home and is looking forward to serving the community.  She is committed to helping her patients with dedication and kindness, she is excited to call Glenora Dental her new home, spending time with our team, and meeting Glenora Dental's fantastic patients, sharing her passion of dentistry.
In her spare time, you will find Dr. Patel curled up with a good book or exploring her artistic side through painting.  She also enjoys the outdoors, hiking and skiing, and we look forward to supporting Dr. Patel as she builds roots in the Edmonton community.
Chantel Brulotte, Registered Dental Assistant
"I love working with my patients, making them feel comfortable, and ensuring they understand the importance of good oral hygiene."
Originally from Abbotsford, BC, Chantel graduated from the Dental Assisting program at the Southern Alberta Institute of Technology (SAIT). Now happily married and a permanent resident of Edmonton, AB, Chantel enjoys the peaceful atmosphere that comes with working at Glenora Family Dental, and the calmness of Dr. VandenBrink and team. On her spare time she taps in her musical side by playing the violin and clarinet.
Janice Phillip, Registered Dental Assistant
"I love working with my patients and the rest of the team at Glenora; I'm lucky to have such great co-workers!"
Janice is an experienced and talented Dental Assistant, born and raised in Fort Saskatchewan, AB. She has been a Dental Assistant since 1983, and has been working with Dr. VandenBrink at Glenora Family Dental for over 20 years.
Her favourite part of the day is treating and caring for her patients – she's extremely passionate about oral hygiene best-practices, and ensuring her patients take good care of their teeth and gums.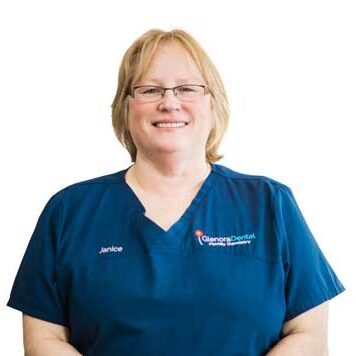 Karanbir Sidhu, Registered Dental Assistant
"I love working in the dental field, especially when it comes to educating our patients about oral hygiene. Ensuring that all our Glenora Dental patients receive excellent service at each appointment brings out their beautiful smiles."
Karanbir, affectionately called Sid, was born and raised in India and graduated in 2013 as a trained Dentist. Sid decided to move to Canada in 2016 and loving dentistry decided to continue his dream here. He graduated from St. Clair College of Sciences in Windsor Ontario as a Registered Dental Assistant and moved to Edmonton shortly after.
Sid joined Glenora Dental in October 2018 and works alongside Dr. VandenBrink and Dr. Neha Singla, both who are mentoring him as he works on his long-term goal as graduating as a Doctor of Dental Surgery in Canada.
Sid is happily married and you can find him in his spare time lifting weights and training people in the gym. He is Glenora Dental's fitness go-to guru.
Anissa Copage, Registered Dental Assistant
Anissa is an Alberta girl through and through.  Born in Edmonton and living in Sherwood Park, Anissa joined Glenora Dental in October 2020 as an amazing addition to our Assistant Team.
Graduating from CDI College in 2019 with honors in Dental Assisting, Anissa's love of helping people shines brightly in the clinic.
Ambitious, caring and with an easy-going personality, Anissa strives towards furthering her education and skill sets in the dental field.  She loves the family fun atmosphere at Glenora Dental.
"Everyone you will ever meet knows something you don't.  We don't grow when we stay inside our comfort zone"
In her spare time Anissa can be found outdoors.  Snowboarding, fishing, hunting, hiking, wakeboarding and being at the lake are her favorite things.  On her bucket list?  Skydiving….  Adventure awaits.
Samantha Heron, Registered Dental Hygienist
"I love my patients at Glenora, and the staff go above and beyond what I ever expected from a dental office."
Sam was born in Edmonton, AB, and has been a devoted Dental Hygienist at Glenora Dental for over 8 years! Sam earned a Bachelor's Degree in Dental Sciences and Hygiene at the University of British Columbia in 2012 and received her Master in Medical Sciences with a focus in dental hygiene from the University of Alberta in 2019. Since then, she has started working part-time as a Regional Hygiene team-member for Canadian Dental Services, helping hygienists increase patient care across Alberta. Sam also serves as the Chairperson for the Registration Committee for the College of Registered Dental Hygienists of Alberta (CRDHA).
In her downtime, Sam loves to bake, cross-stitch and embroider, make her own soaps, snowboard in the winter with her family, and spend as much time with her partner, Dan, as possible. She is the youngest of four sisters and a very proud Aunt to seven nieces and nephews.
Andria Wester, Registered Dental Hygienist
Andria joined Glenora Dental's team in September 2020 as one of our Dental Hygienists.
Graduating from the U of A in Biological Sciences, Andria then went back to complete the Dental Hygiene program.  With over 10 years of experience in her chosen field, she has a friendly and kind demeanor that allows patients to feel at ease in the dental chair.  She listens to concerns and tailors her treatment to what becomes a personalized visit for her patients.
"I love seeing improvements in the teeth and gums after a dental hygiene treatment.  It is also great to see improvement based on patient's hard work and effort at home."
Originally from Red Deer, Andria makes her home in Edmonton with her husband and son.  With another wee one on the way, her family life keeps her busy.
When she is not at the clinic or taking care of her family, Andria loves scuba diving and has spent time volunteering in the South Pacific for marine research.  Her bucket list includes the opportunity to scuba dive the Great Barrier Reef.  She also enjoys travelling, hiking, and baking.  She is very good at baking, as the team here will agree with, and you can find treats in our kitchen thanks to her handy work.
Diana Truong, Registered Dental Hygienist
Diana has called Edmonton home her whole life. She attended the University of Alberta for undergraduate studies in Sciences. She found a particular interest in dental hygiene when she was working as a dental administrator in Fort McMurray and Edmonton. She completed her dental hygiene diploma in Toronto, finishing her degree at the University of Alberta. When she's not with her Glenora Dental family working with patients or eating pizza, Diana tries to stay active by rock climbing, traveling, and spending time with her family.
"I'm no "flossopher" but your teeth are like relationships - be true to them and they won't be false to you."  
Arianna Marsden, Registered Dental Hygienist
"I love the interactions that I get to have with people!  I enjoy learning about people's lives and building relationships with them.  Having smooth clean teeth is a great feeling and it's satisfying to me to make them that way."
In 2021 Arianna, affectionately called Ari, joined Glenora Dental as a Registered Dental Hygienist and we could not be more pleased to have her.  With her gentleness and light touch, she makes patient's comfort a priority.
Born and raised in Edmonton Ari started her dental career as an assistant and worked chairside with a dentist for 7 years.  Then deciding to further her education Ari packed up her life and went to the warmer weather of Arizona where she graduated from Rio Salado College in Tempe Arizona as a Hygienist in 2014.  Practicing there as a hygienist for a few years, Ari found a reason to come back to our chilly winters and returned to Edmonton in 2018 to be with her special someone.
Ari is an avid Oiler fan and is so happy to be back to cheer on her hometown team.  Ari also has a love for Marvel movies and Will Ferrell, so it is easy to say, she fits right in with Glenora Dental.  When Ari is not in clinic you can find her baking sweets, cuddling with her Husky-mix, who by the way she has taught to say I love you, which is one of her proudest achievements to date.
Alyssa Manzevich, Dental Administrator
Born and raised in Edmonton, Alyssa has recently started a new chapter of her life moving to Spruce Grove and raising a rescue puppy.
Alyssa started her dental career in 2014 as a chairside assistant and after 4 years of helping on the clinical side of dentistry, Alyssa decided that she wanted to learn the administrative side of the industry, joining our team at Glenora Dental.
"January 2019 the Glenora Dental Family opened their doors to me and every day since has been a great experience. I am grateful to have the opportunity to spend my days with such a great group of people, coworkers, and patients."
In her free time, you can find Alyssa spending her summers at the lake, sipping coffee on the deck and making sure to get in a few golf games when the weather cooperates. During the winter, she breaks up the long cold months with a yearly mother/daughter tropical vacation. You can find them on a beach someplace amazing.
Stephanie Robson, Dental Administrator
Stephanie is a true Edmontonian, born and raised in our lovely city, she resides her with her husband and 2 children.
Spending the last 15 years in the dental field, Stephanie graduated from Norquest College as a Dental Administrative Assistant. Our newest Glenora Dental family member joined us in the summer of 2019 and we are so pleased to have her with us.
"Working at Glenora Dental has been a breath of fresh air! The patients are awesome and the team are easy going and love to laugh. It makes coming to work fun!"
Stephanie is a die-hard Harry Potter fan (go ahead and ask her anything Hogwarts related), loves reading, watching movies and spending time with her loved ones at home.
Reese VandenBrink, Dental Administrator
In January 2020, after growing up in the clinic, Reese joined Glenora Dental as a part time Administrative team member.
Her outgoing and energetic personality has been a welcome addition to the office.  Reese is finishing her degree in Business Administration and Human Resources at Nait and you will find her here on some evenings and weekends, expanding her dental knowledge and office experience.
When she is not in the clinic, you will find her coaching Ringette, a sport has spent almost her life competing in, and spending time with family and friends.  Reese also has a creative streak which she shows through painting.  She would love to start travelling and her dream vacation is to travel to Greece.
Amy Emerson, Clinic Manager
"Glenora Dental is my second home. I always love coming into the clinic, spending my time with our patients and the Glenora Team. I couldn't ask for a better place to spend my days."
Born and raised in Edmonton, AB, Amy has been surrounded by dental professionals in the family her whole life. It's no wonder she's grown to love dental and has been working in the industry for almost 20 years!
After graduating from NAIT with a diploma in Dental Assisting Technology, Amy's career started at Glenora Family Dental in 1999 when she worked as a chairside Dental Assistant to Dr. VandenBrink until starting her family in 2003.
Amy rejoined the office in 2013. As familiar face upfront, you can now find her in the Manager's office, managing day-to-day administrative tasks for the clinic. Let her know when you are here, Amy will always find the time to come up and say Hi!
Amy absolutely loves her patients and gets a thrill out of helping them every day. She's passionate about the practice, ensuring patient management is well managed and enjoys being a part of the family-oriented and friendly atmosphere at Glenora Family Dental.
When Amy is not at the clinic you can usually find her at home spending time with her husband, three children, and their two dogs. When they aren't keeping her on her toes, Amy loves to wind down by grooving to cool tunes, reading books and watching anything to do with scary and spooky stories.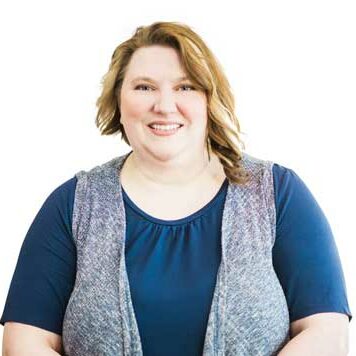 | | |
| --- | --- |
| Monday | 7:00 am - 3:00 pm |
| Tuesday | 7:00 am - 3:00 pm |
| Wednesday | 7:00 am - 8:00 pm |
| Thursday | 11:00 am - 8:00 pm |
| Friday | 8:00 am - 4:00 pm |
| Saturday* | 8:00 am - 4:00 pm |
| Sunday | Closed |
* Alternating weeks open
Dr. John VandenBrink
Tel: (780) 452-5700
10534 124 St. NW #112
Edmonton, Alberta
T5N 1S1