The experienced and friendly team at Glenora Family Dental are here
to ensure that every step of your visit is as comfortable as possible.
Dr. John VandenBrink, DDS
A passionate Edmonton Dentist with over 25 Years of Experience
"I love dentistry for its many challenges, and how it combines a lot of my favorite hobbies including the opportunity to be artistic. What I most enjoy is getting my patients through their dental procedures with a smile – it's very rewarding."
As a native of Edmonton, AB, Dr. VandenBrink currently resides in Sherwood Park with his wife and three beautiful children. With a degree in Dentistry and Chemical Engineering from the University of Alberta, Dr. VandenBrink has been practicing dentistry since 1992.
Encompassing expert clinical skills, admirable attention to detail, and what his patients can only refer to as a "caring demeanor, and warm and playful personality", Dr. VandenBrink is devoted to changing the stigma about visiting the dentist by making dental "fun".
Dr. VandenBrink offers patients a wide array of dental services including preventive care, dentistry for children, emergency dental care, cosmetic dentistry and restorative procedures such as teeth whitening, ceramic crowns, bridges, and veneers.
On his free time you can find Dr. VandenBrink barbequing, cooking and cycling with his family, golfing, spending time at the gym, reading, and model-making. His bucket list items include visiting Asia and seeing "Big Rock" in concert.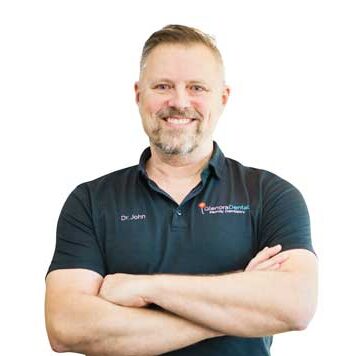 Dr. Raza Haider is a general dentist, and we welcome him to the Glenora family.
Growing up in Pakistan, Dr. Haider first studied dentistry at the University of Karachi before moving to Edmonton and attending the University of Alberta to become licensed in Canada.
He has been in the dental field since 2010 and looks forward to educating his patients on the importance of oral care and staying healthy.
His passion for dentistry extends to an interest in a variety of services, including Invisalign, and the latest technologies and skills in the field to help support optimal results for his patients.
Dr. Haider lives with his wife and twin boys. In his free time, he enjoys cooking, reading, and painting.
Our team is growing! Welcome, Dr. Kaur!
Dr. Ramanjot Kaur is a General Dentist with a background and a passion for oral health. Originally from India, she obtained her dentistry degree from Panjab University, Chandigarh. After practicing for a year in India, she pursued further studies in Health Services Management in New Zealand, where she lived for four years. Eventually, she made Canada her permanent home.
In April 2023, Dr. Kaur completed the Equivalency process from the National Dental Examining Board of Canada, further enhancing her qualifications. Beyond providing dental treatments, Dr. Kaur believes in educating her patients about maintaining good oral health. She aims to spread awareness in all communities and empower individuals to take charge of their oral well-being.
Alongside her professional pursuits, she enjoys an active lifestyle, including exercising, dancing, and cooking.
Our team is growing! Welcome, Dr. Syed!
Dr. Shabih Syed earned her BDS degree in India in 2009. She has undergone Alberta's Dental Equivalency Exams and is certified to practice dentistry in Canada. Dr. Syed is dedicated to educating her patients about oral care, emphasizing the importance of maintaining a healthy smile.
Apart from English, she speaks Urdu, Hindi, and Marathi and understands Punjabi and Gujrati.
Dr. Syed is a loving wife and mother and loves spending time with her family and friends. In her free time, you will find her at a beach, in the wilderness, or just having fun at a waterfall. She is also a very active community member and loves giving back.
Dr. Syed is excited to meet all Glenora Dental patients and looks forward to serving the Edmonton community for many years.
She is now accepting new patients and is available to help provide for your oral health and dental needs.
Janice Phillip, Registered Dental Assistant
"I love working with my patients and the rest of the team at Glenora; I'm lucky to have such great co-workers!"
Janice is an experienced and talented Dental Assistant, born and raised in Fort Saskatchewan, AB. She has been a Dental Assistant since 1983, and has been working with Dr. VandenBrink at Glenora Family Dental for over 20 years.
Her favourite part of the day is treating and caring for her patients – she's extremely passionate about oral hygiene best-practices, and ensuring her patients take good care of their teeth and gums.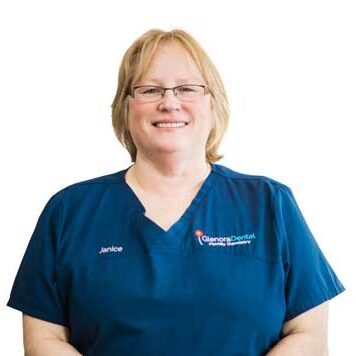 Samantha Heron, Registered Dental Hygienist
"I love my patients at Glenora, and the staff go above and beyond what I ever expected from a dental office."
Sam was born in Edmonton, AB, and has been a devoted Dental Hygienist at Glenora Dental for over 8 years! Sam earned a Bachelor's Degree in Dental Sciences and Hygiene at the University of British Columbia in 2012 and received her Master in Medical Sciences with a focus in dental hygiene from the University of Alberta in 2019. Since then, she has started working part-time as a Regional Hygiene team-member for Canadian Dental Services, helping hygienists increase patient care across Alberta. Sam also serves as the Chairperson for the Registration Committee for the College of Registered Dental Hygienists of Alberta (CRDHA).
In her downtime, Sam loves to bake, cross-stitch and embroider, make her own soaps, snowboard in the winter with her family, and spend as much time with her partner, Dan, as possible. She is the youngest of four sisters and a very proud Aunt to seven nieces and nephews.
| | |
| --- | --- |
| Monday | 7:00 am - 3:00 pm |
| Tuesday | 7:00 am - 3:00 pm |
| Wednesday | 7:00 am - 8:00 pm |
| Thursday | 7:00 am - 8:00 pm |
| Friday | 8:00 am - 4:00 pm |
| Saturday* | 9:00 am - 2:00 pm |
| Sunday | Closed |
* Alternating weeks open
Dr. John VandenBrink
Tel: (780) 452-5700
10534 124 St. NW #112
Edmonton, Alberta
T5N 1S1