The experienced and friendly team at Glenora Family Dental are here
to ensure that every step of your visit is as comfortable as possible.
Dr. John VandenBrink, DDS
A passionate Edmonton Dentist with over 25 Years of Experience
"I love dentistry for its many challenges, and how it combines a lot of my favorite hobbies including the opportunity to be artistic. What I most enjoy is getting my patients through their dental procedures with a smile – it's very rewarding."
As a native of Edmonton, AB, Dr. VandenBrink currently resides in Sherwood Park with his wife and three beautiful children. With a degree in Dentistry and Chemical Engineering from the University of Alberta, Dr. VandenBrink has been practicing dentistry since 1992.
Encompassing expert clinical skills, admirable attention to detail, and what his patients can only refer to as a "caring demeanor, and warm and playful personality", Dr. VandenBrink is devoted to changing the stigma about visiting the dentist by making dental "fun".
Dr. VandenBrink offers patients a wide array of dental services including preventive care, dentistry for children, emergency dental care, cosmetic dentistry and restorative procedures such as teeth whitening, ceramic crowns, bridges, and veneers.
On his free time you can find Dr. VandenBrink barbequing, cooking and cycling with his family, golfing, spending time at the gym, reading, and model-making. His bucket list items include visiting Asia and seeing "Big Rock" in concert.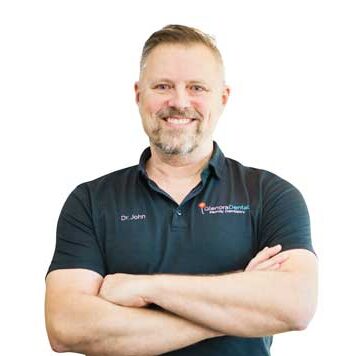 "I really enjoy the social and humanistic aspects of the dental profession.  I am excited to meet new Edmontonians daily throughout my career."
Dr. Luke Milne was born and raised in Edmonton, Alberta. He attended the University of Alberta where he completed both a Bachelor of Science Degree and Doctor of Dental Surgery degree. Dr. Milne's passion for dentistry is driven by his love for patient interaction and interest in cutting edge dental technologies. Not only does Dr. Milne strive to improve the oral health of his patients, he also enjoys performing cosmetic dental procedures that can positively impact a patient's self-esteem.
Luke enjoys playing hockey in the winter and golfing in the summer. Moreover, he is a devoted Edmonton Oilers and Eskimos fan. With a keen interest in orthodontics and endodontics, he aspires to specialize in either one of those fields in the future.
Chantel Brulotte, Registered Dental Assistant
"I love working with my patients, making them feel comfortable, and ensuring they understand the importance of good oral hygiene."
Originally from Abbotsford, BC, Chantel graduated from the Dental Assisting program at the Southern Alberta Institute of Technology (SAIT). Now happily married and a permanent resident of Edmonton, AB, Chantel enjoys the peaceful atmosphere that comes with working at Glenora Family Dental, and the calmness of Dr. VandenBrink and team. On her spare time she taps in her musical side by playing the violin and clarinet.
Janice Phillip, Registered Dental Assistant
"I love working with my patients and the rest of the team at Glenora; I'm lucky to have such great co-workers!"
Janice is an experienced and talented Dental Assistant, born and raised in Fort Saskatchewan, AB. She has been a Dental Assistant since 1983, and has been working with Dr. VandenBrink at Glenora Family Dental for over 20 years.
Her favourite part of the day is treating and caring for her patients – she's extremely passionate about oral hygiene best-practices, and ensuring her patients take good care of their teeth and gums.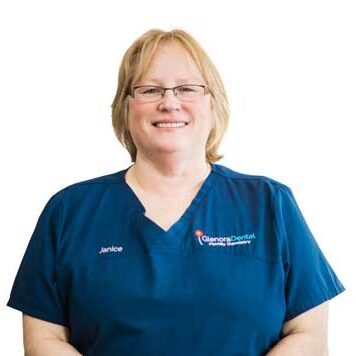 Samantha Heron, Registered Dental Hygienist
"I love my patients at Glenora, and the staff go above and beyond what I ever expected from a dental office."
Samantha was born in Edmonton, AB, and has been a devoted Dental Hygienist at Glenora for over 4 years! In addition to the strong opinion that "teeth are cool", Samantha earned a Bachelor's Degree in Dental Sciences and Hygiene at the University of British Columbia. Naturally ambitious, Samantha is currently working towards her Masters in Dental Hygiene at the University of Alberta.
Samantha spends her downtime cuddling with her beloved cat, Jagger, and hanging out with her tight-knit family of three sisters, two nieces, and a nephew, at their lake house just west of Stony Plain.
Diana Truong, Registered Dental Hygienist
Born and raised in Edmonton, AB, Diana spent several years working as a Dental Administrator in Fort McMurray. It was there that she fell in love with oral hygiene, and the rapport that her Dental Hygienist colleagues had built with their patients.
"It was this reward – the getting to know the patients and their families, and making a difference in their lives - that I aspired to have in a lifelong career. "  
It didn't take long for Diana to pursue a career in dental hygiene – she graduated from Regency Dental School in 2011, and has been practicing Dental Hygiene ever since. When she's not at Glenora Family Dental working with patients, Diana enjoys staying active by rock climbing, traveling, and spending time with her close-knit family: Mom and dad, 2 sisters, 1 brother, 2 nieces, 1 brand new baby nephew, and 2 brother in-laws!
"I'm no "flossopher" but your teeth are like relationships - be true to them and they won't be false to you."  
Stephanie Wnuk, Registered Dental Hygienist
"I love my profession in all aspects – it's what keeps me motivated, especially when I encourage patients to practice good dental health, and see improvements!"  
Originally from Sudbury, ON, Stephanie works as a Registered Dental Hygienist at Glenora Family Dental, bringing a positive attitude and a passion for oral health. Stephanie graduated from Cambrian College in Sudbury, ON where she received a diploma in Dental Hygiene, and then ventured to the Saskatchewan Institute of Applied Science and Technology (SIAST) for further education on Local Anesthesia. Stephanie takes immense pride in what she does, enjoying the opportunity to interact with her patients and educate them on oral health best practices.
Amy Emerson, Receptionist &
Front Desk Administrator
"Glenora is a great place to spend my work day; I always love coming into the clinic."
Born and raised in Edmonton, AB, Amy has been surrounded by dental professionals in the family her whole life. It's no wonder she's grown to love dental, and has been working in the industry for almost 20 years!
After graduating from NAIT with a diploma in Dental Assisting Technology, Amy's career started at Glenora Family Dental in 1999 when she worked as a chairside Dental Assistant to Dr. VandenBrink. She currently works at the reception desk at Glenora, managing day-to-day administrative tasks for the clinic.
Amy absolutely loves her patients, and gets a thrill out of helping them every day. She's passionate about the practice, ensuring patient management is well managed, and enjoys being a part of the family-oriented and friendly atmosphere at Glenora Family Dental. Amy is happily married with three lovely children.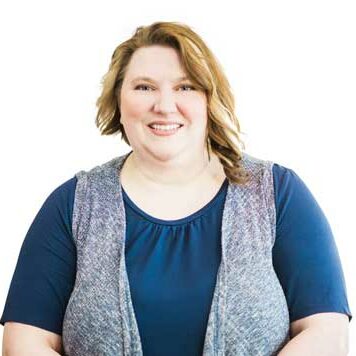 Reese Glawson, Receptionist
Born in Winnipeg, raised in Morinville and currently living in Edmonton, Reese joined the team at Glenora in Spring 2018. Reese has worked in the dental field as a business administrator since 2014 and enjoys everything about her responsibilities here at the office. She spends her free time with her family and loved ones  - including 4 fur babies – Moose, Medusa, Miracle, and Marmalade.
| | |
| --- | --- |
| Monday | 7:00 am - 3:00 pm |
| Tuesday | 7:00 am - 3:00 pm |
| Wednesday | 7:00 am - 8:00 pm |
| Thursday | 11:00 am - 8:00 pm |
| Friday | 8:00 am - 4:00 pm |
| Saturday* | 8:00 am - 4:00 pm |
| Sunday | Closed |
* Alternating weeks open
Dr. John VandenBrink
Tel: 780.452.5700
10534 124 St. NW #112
Edmonton, Alberta
T5N 1S1